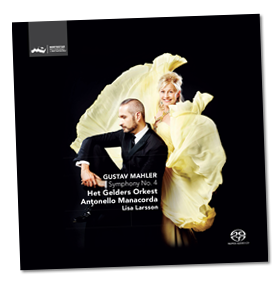 NEW ON CD
Lisa Larsson sings Mahler
Soprano solo from Symphony No. 4
Three Songs from:
"Des Knaben Wunderhorn"
ALSO AVAILABLE
Lisa Larsson sings Berlioz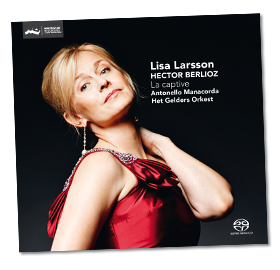 La captive, Herminie
La mort de Cléopâtre
ALSO AVAILABLE
Lisa Larsson sings Haydn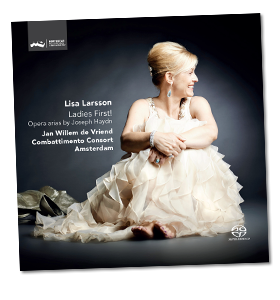 Ladies First!
Scena di Berenice, Arianna a Naxos
Arias from: L'anima del filosofo,
L'isola disabitata, L'infedeltà delusa,
La Metilde ritrovata

Lisa Larsson starts new season in Sweden
Lisa Larsson starts her 17/18 season with performances of Rolf Martinsson's ›Garden of Devotion‹ on September 21 and 22 in Sweden. All of Lisa's appearances in the new season are now online. Please click on SCHEDULE.
Lisa Larsson and Rolf Martinsson:
A UNIQUE COLLABORATION
LINK TO CLIP ›A UNIQUE COLLABORATION‹ ON YOUTUBE
The succesful collaboration with Swedish soprano Lisa Larsson now includes more than 100 Swedish and international performances, tours, co-commissions, Radio and TV broadcastings as well as CD recordings in collaborations with conductors such as John Storgårds, Gustavo Gimeno, Stefan Solyom, Antonello Manacorda, Marc Albrecht; orchestras such as Tonhalle-Orchester Zürich, Philharmonia Orchestra, Helsinki PO, Netherlands PO, Gothenburg SO, Royal Stockholm PO, Melbourne SO, La Verdi, Scottish, Stuttgart, Swedish and Netherlands chamber orchestras, in venues like Concertgebouw, Amsterdam, Royal Festival Hall, London and Hamer Hall, Melbourne. Martinsson has written five vocal pieces for Larsson. Click the titles to see the YouTube clips:
›Ich denke Dein...‹ (Netherlands Philharmonic Orchestra, Marc Albrecht)
LINK TO CLIP ON YOUTUBE
›Ich denke Dein...‹ (Helsinki Philharmonic Orchestra, John Storgårds)
LINK TO CLIP ON YOUTUBE
›Into Eternity‹
LINK TO CLIP ON YOUTUBE
›Orchestral Songs on Poems by Emily Dickinson‹
LINK TO CLIP ON YOUTUBE
›Orchestral Songs on Poems by Emily Dickinson‹
Version für Sopran und Klavier
LINK TO CLIP ON YOUTUBE
›Garden of Devotion‹
LINK TO CLIP ON YOUTUBE
›To the Shadow of Reality‹
LINK TO CLIP ON YOUTUBE